third practice 2010

info: schedule artists technical commissions and recordings hotel and travel staff

third practice is an annual festival of new electroacoustic music and mixed media presented by the department of music and the modlin center for the arts at the university of richmond. now in its tenth year, the festival will present works for instruments and computer, dance, video, and stereo and multi-channel works for fixed media. the festival will feature eighth blackbird as ensemble-in-residence, as well as guest performers odd appetite (cello and percussion), susan fancher, patrick o'keefe, daniel koppelman, susan tomkiewicz, and david niethamer, among others.

third practice 2010 explores the emerging electroacoustic art form and its relationship to past and present musical practices around the world. the festival will take place november 5-6, 2010 in camp concert hall. no tickets are required, and every event is free and open to the public.
third practice staff
| | |
| --- | --- |
| | composer benjamin broening is third practice's artistic director and founder. for a complete biography, click here. |
| | richmond alum matthew mccabe is 3p's technical director and web designer. after attending richmond, matt attended bowling green state university and the university of florida, where he recently completed his ph.d. in the fall of 2009 he joined the music faculty at columbus state university, where he is visiting assistant professor of audio technology. |
| | mike burns is the senior associate technical director of 3P, and the associate technical director at the university of richmond's modlin center for the arts. also an active composer, he holds a master's degree in music technology from new york university. |
| | heather stebbins graduated from the university of richmond in 2009, and is currently pursuing her master's degree in composition at boston university, where she studies with joshua finebreg. active as a composer and cellist, heather has performed her works across the u.s. from both behind the mixing console and and on stage. she has been an assistant on the technical staff of 3P since 2005. |
| | chris chandler completed his music degree at the university of richmond in 2008, and worked for the music department before departing for bowling green state university and the M.M. in composition program. he has been an assistant on the technical staff of 3P since 2005. |
| | graphic designer john malinoski is an associate professor at the virginia commonwealth university school of the srts. |
close popup
travelling to richmond
richmond international airport serves the metropolitan area, and is the most accessible airport to the UR campus. daily flights in and out of RIC can be found on AirTran, JetBlue, American, Continental, Delta, United, and USAir. the city is also home to greyhound and amtrak stations.
third practice accomodations
A block of rooms at has been reserved at the Richmond Crown Plaza West (note: be careful, there are two Crown Plazas in Richmond. The festival hotel is the one located at 6531 W. Broad Street). The conference rate is $84.
To book a room on the web, visit Crowne Plaza Richmond-UR Music. Festival attendees must book their rooms by October 21, 2010, though earlier is better.
Click here for Google Maps directions from the Crowne Plaza to Campus.
Once you reach campus, use the University of Richmond Campus Map to navigate to the Modlin Center for the Arts. The campus is well-marked with signs. Camp Concert Hall is in the Booker Hall of Music, Building #38 on the map.
close popup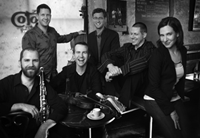 eighth blackbird, ensemble-in-residence
Described by The New Yorker as "friendly, unpretentious, idealistic and highly skilled", eighth blackbird promises its ever-increasing audiences provocative and engaging performances. It is widely lauded for its performing style: often playing from memory with virtuosic and theatrical flair and its efforts to make new music accessible to wide audiences. A New York Times reviewer raved, "eighth blackbird's performances are the picture of polish and precision, and they seem to be thoroughly engaged by music in a broad range of contemporary styles." The sextet has been the subject of profiles in the New York Times and on NPR's All Things Considered; it has also been featured on CBS's Sunday Morning, St. Paul Sunday, Weekend America and The Next Big Thing, among others. The ensemble is in residence at the University of Richmond in Virginia and at the University of Chicago. Visit eigthblackbird.com for more information on 3p's ensemble-in-residence.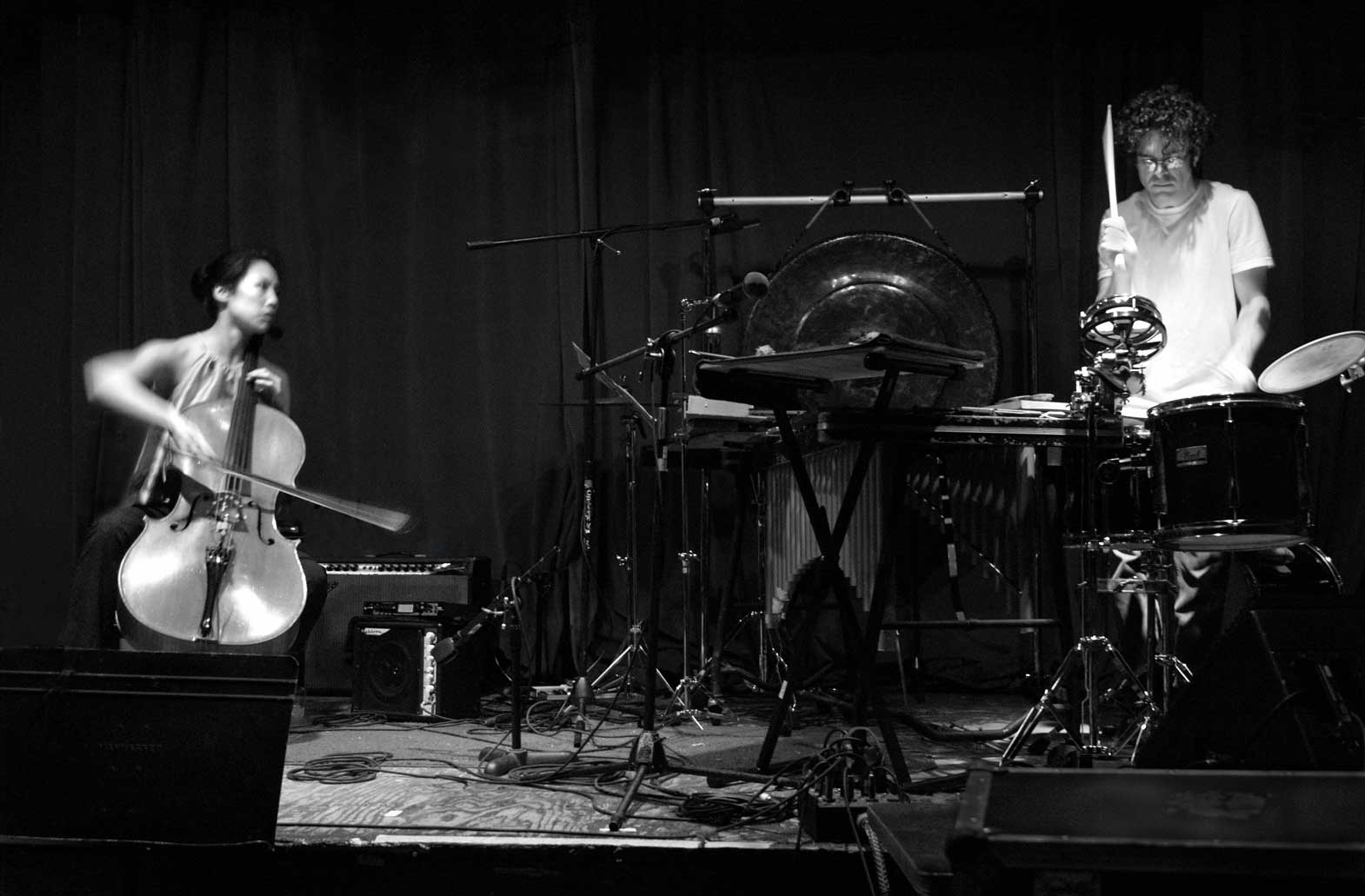 odd appetite
Based in New York City, Odd Appetite is the duo of performers/composers Ha-Yang Kim (cello) and Nathan Davis (percussion). Both classically trained in American and European conservatories, Odd Appetite composes, collaborates, and performs its own music written for this unique instrumentation as well as performing commissioned works by select composers. Their programs defy what the typical new music concert experience is - and defines what it can be - by offering music that is both subtle and visceral, complex yet unified by narrative and gesture. Critic Kyle Gann praised Odd Appetite in the Village Voice as "Expert virtuoso players", and David Cleary raved in 21st Century Music "The splendid duo Odd Appetite displayed careful chamber music interaction, a well-tuned ear for ensemble balance, and technical dexterity to burn."
In addition to performing music from the West they have dedicated themselves to studying and performing music of Bali and of South India (Karnatic music), and use electronics to extend and exaggerate the acoustic properties of their instruments. Giant Balinese gongs, microtonal glockenspiel, drums, cowbells, tuned aluminum pipes, and hammered dulcimer are played alongside a de-tuned and amplified cello with stomp boxes and electronic effects, all played with dazzling virtuosity, passion and spirit. Odd Appetite has traveled the world in search of new sounds and languages, and their music is a manifestation of the zeal that they have for the music of today and this world.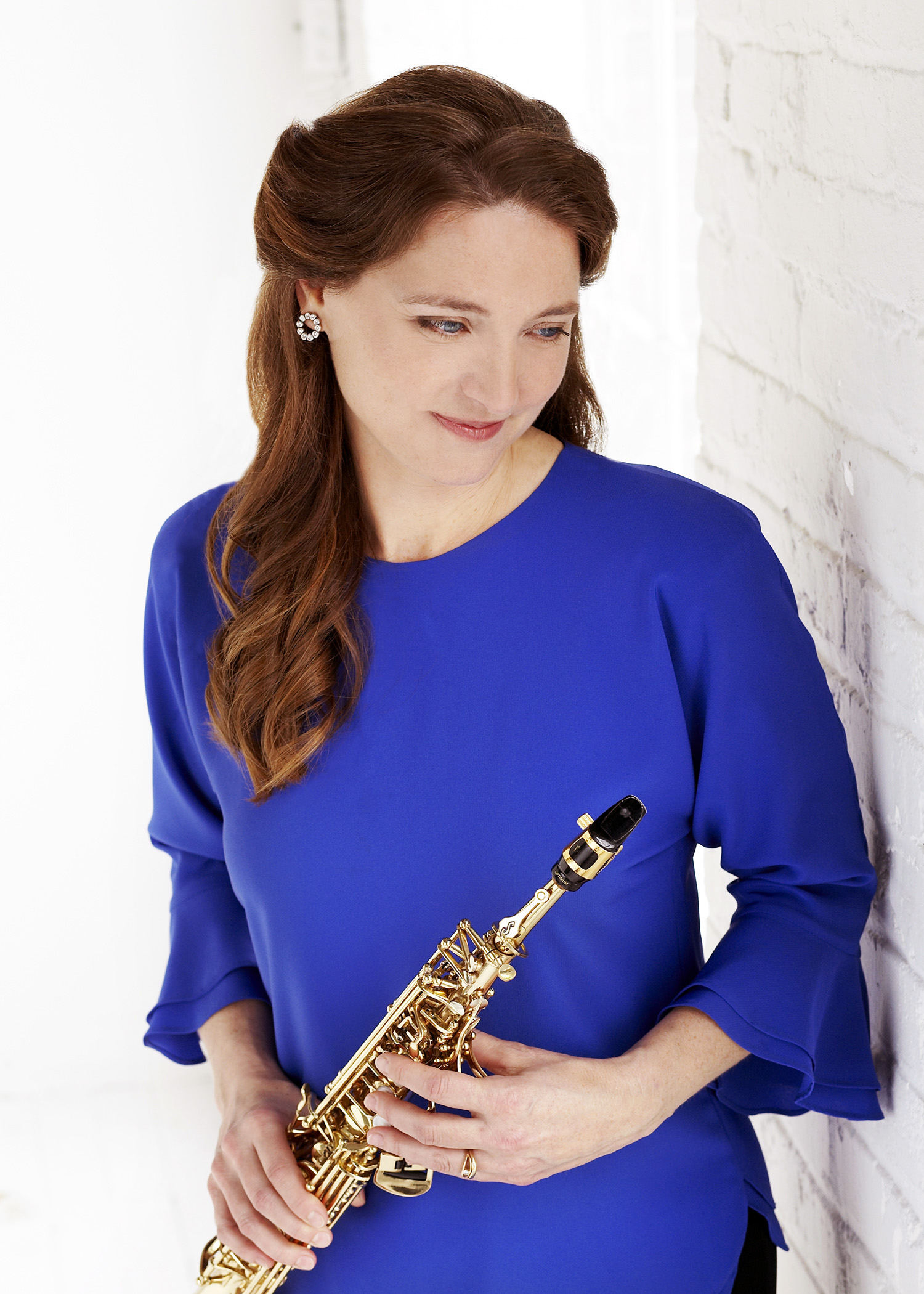 susan fancher
Susan Fancher is known for her deep and poetic musical interpretations. A much sought after performer of new music, she has inspired dozens of commissions and has published arrangements of music by composers as diverse as Josquin Desprez, Ben Johnston and Steve Reich. Her career has featured hundreds of concerts internationally as a soloist and as the member of chamber music ensembles, including the Red Clay, Amherst, Vienna and Rollin Phones saxophone quartets. She has worked with a multitude of composers including Terry Riley, Charles Wuorinen, Philip Glass, Hilary Tann, Friedrich Cerha, Ben Johnston, Mark Engebretson, M. William Karlins, Stuart Saunders Smith, Perry Goldstein, Olga Neuwirth, Judith Shatin, James Paul Sain, David Stock, Ed Campion and Robert Carl, and has performed in many of the worlds leading concert venues and contemporary music festivals. Susan Fancher is a regularly featured columnist for the nationally distributed Saxophone Journal and an artist for the Selmer and Vandoren companies. She is on the faculty of Duke University.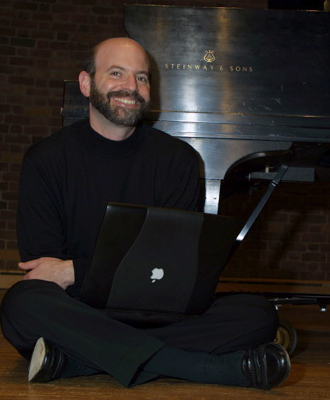 daniel koppelman
Born in New York and raised in California, Daniel Koppelman has gained experience with many different musical traditions -- classical and popular, composed and improvised, acoustic and electronicwhich has led him to explore their intersections in search of new possibilities for performing, teaching, and creating music. Koppelman's current performance interests include various real-time controllers in conjunction with Cycling '74's Max/MSP and STEIM's LiSa (live sampling) software, digital signal processing of acoustic piano, and the multiple keyboard ensemble duo runedako (with Ruth Neville). He has recorded for CRI, New World Records, Neuma Records, Capstone, SEAMUS and C74; he recently released Escapement, a 2-disc CD/DVD set of 21st Century music for piano and electronics, which Keyboard Magazine called "engaging, intelligent, and unpretentious." Koppelman holds degrees from San Francisco State University (B.M.), Indiana University (M.M.), and the University of California at San Diego (Ph.D.), where he was a Regents Fellow; his piano teachers have included Wayne Peterson, James Tocco, Cecil Lytle and Aleck Karis. Currently Associate Professor and Director of Music Technology at Furman University in Greenville, South Carolina, Koppelman has been a resident artist at STEIM in Amsterdam, the Institute of Sonology in The Hague, and the Center for Research in Computing and the Arts in La Jolla, CA. In 2008 he will be lecturing and performing in and around Odessa, Ukraine on a Fulbright Scholarship.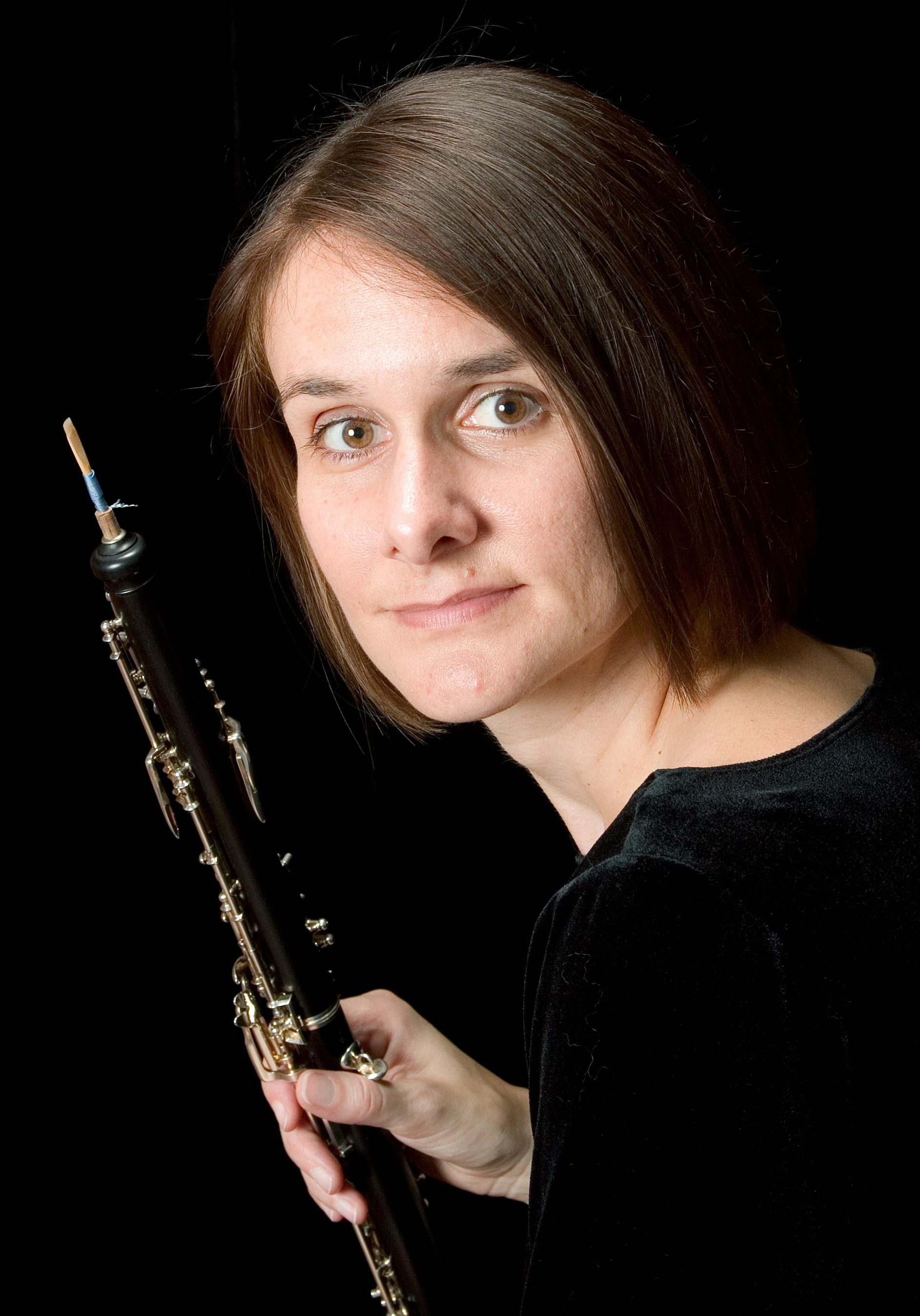 susan tomkiewicz
Dr. Susan Hatch Tomkiewicz is the Assistant Professor of Oboe at the Schwob School of Music at Columbus State University. Previous appointments include the University of Nebraska at Omaha, Bowling Green State University, Luther College and Texas Lutheran University. An active proponent of new music, she has commissioned and premiered many new solo, electronic and chamber works for oboe and English horn by such composers as Brooke Joyce, Bruce Pennycook, Jeremy Baguyos and Nancy Galbraith. As a performing artist, Susan has been a recitalist at the International Double Reed Society, SEAMUS, Electronic Music Midwest and the College Music Society. She has also performed with a number of ensembles and productions across the country including the Omaha Symphony, Wicked, the Austin Symphony, the Maine Chamber Ensemble and the Bangor Symphony. Susan has participated on numerous recording projects including Bells for Stokowski, Fandango, and the PBS Texas Parks & Wildlife theme show music. She holds degrees from the University of Texas at Austin, where she graduated summa cum laude, the University of New Mexico and the University of New Hampshire. Her primary teachers include Rebecca Henderson and Kevin Vigneau.
commissions and recordings
new works commissioned by third practice
2008 Ken Ueno One by one, I collect the fragments of my song from harmonies which abound in the air unheard
2008 Toivo Tulev Above*
2007 Frances White the ocean inside*
2006 Michael Barnhart Blue Mess*
2006 Ashley Fure Susurrus*
2005 Benjamin Broening like dreams, statistics are a form of wish fulfillment*
2005 Stephen Vitiello Rush and Lullaby*
2005 Paul Rudy for whom...*
2005 Evan Chambers longing for peace in the garden of lost children*
2005 Paul Lansky Ancient Echoes*
2003 Peter Gilbert Blow, Bugle, Blow
2002 Natasha Barrett Prince Prospero's Party
* commissioned by Third Practice for Eighth Blackbird
[re]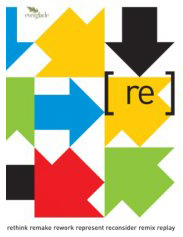 In 2005, Third Practice commissioned 13 artists to create new works for release on [re], a surround-sound DVD-Audio disc:
These artists were asked to consider the relationship between contemporary electroacoustic music and the musical past. To what degree does new technology suggests new modes of musical expression? To what extent do new techniques of music production and dissemination represent a break with received notions of musical composition and consumption? Or is it perhaps more accurate to think of electroacoustic music as a continuation of a shared musical heritage?
That there is no simple answer to these questions reflects the richness and diversity of technical and aesthetic approaches to electroacoustic music. These brief pieces reflect, reinterpret, comment, recompose or reconsider past musical compositional techniques, practices, specific works, genres, styles, forms, practices, concerns in light of electroacoustic music. The works were premiered at the 2006 Festival and are available on the Everglade label.
commissions and premieres CD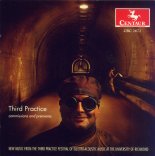 In 2001, Third Practice released Third Practice: Commissions and Premieres on CD, available from Centaur Records. Composers featured on the CD are Benjamin Broening, Matthew McCabe, Russell Pinkston, Natasha Barrett, Peter Gilbert, and Mindy Christensen.
Commissions and Premieres can be purchased from amazon or directly from Centaur Records.
technical specifications
camp concert hall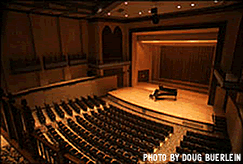 camp concert hall is the central venue for the modlin center for the arts' musical presentations, and will serve as the central location for the 2010 third practice festival. the hall is specifically designed for music, and is one of the premiere halls to play and record in on the east coast due to its sophisticated acoustical design.
the stage is 27' deep and 58' wide.
festival audio system specifications
reinforcement and diffusion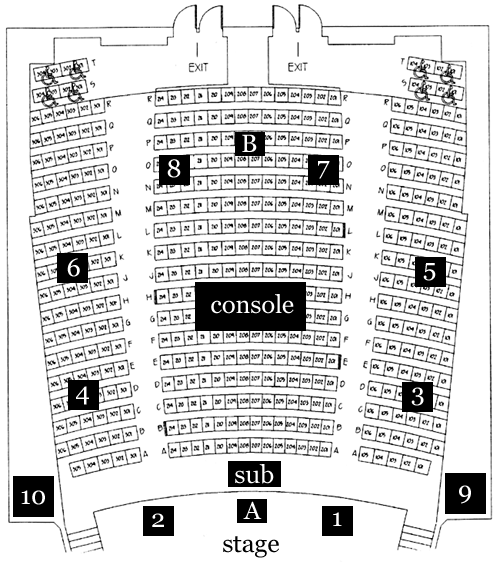 the third practice sound reinforcement system is based around a 48-channel, 8-buss Allen and Heath series 4000 console, and a total of 11 main drivers and 4 subs:
8 x Meyer CQ-1 cabinets
2 x Mackie SA 1521z cabinets
2 x Meyer USW-1P Subwoofer
2 x Renkus Heinz CE cabinets, (1 x 94T Mid/High and 2 x 12" sub each, driven by 1 x QSC MX3000 and 1 x QSC MX1500)
1 Center Cluster (1 x Renkus Heinz CE-125T Mid/High and Low, 1 x CEMH-125 balcony fill, driven by 1 RH P-2800 and one QSC MX1500).
Click on the image to the right for a larger version of the speaker layout in Camp Concert Hall.
close popup
concert schedule
concert I: friday, november 5 @ 2:00pm

Heather Stebbins, Three Stones
Chris Chandler, Doppelganger
Matthew McCabe, and all their arrows turned to flowers
Davide Ianni, Inter Nos
Edgar Barroso, Kapsis
Diane Thome, Estuaries of Enchantment
Michael Gordon, Light is Calling
Dai Fujikura, Poison Mushroom

concert II: friday, november 5 @ 7:30pm, eighth blackbird

D.J. Sparr, Sound Harmonies with Air
Du Yun, San
Eric Chasalow, Suspicious Motives
Yota Kobayashi, To the Invisible Ones
Kyong Mee Choi, To Unformed
Frances White, The Ocean Inside

concert III: saturday, november 6 @ 10:00am

Juraj Kojs, Pastoral Care
Aurie Hsu and Steven Kemper, Shadows no. 6
Richard Dudas, Prelude for Clarinet and Computer
Richard Dudas, Prelude for Flute and Computer
Spencer Topel, Gnomoncholia
Brett Battey, Sinus Aestum
Erik DeLuca, Four Days of Winter
Erik DeLuca, Sonic Portrait III - The James

concert IV: saturday, november 6 @ 2:00pm

Heather Frasch, métal re-sculpté
Charles Nichols, Pendulum
Mikel Kuehn, Crack!
Stephen Taylor, Nebulae
Stan Link, toda la tierra
William Kleinsasser, Adagio (amore)
Charles Nichols, De Grizje Boom

concert V: saturday, november 6 @ 7:30pm

Ha Yang Kim, tba
Jaroslaw Kapuscinski, Oli's Dream
Benjamin Broening, Third Nocturne
Nathan Davis, tba
Scott Miller, Arcata #3
Stephen Vitiello, A Bell for Every Minute

installation, throughout the festival

Paula Matthusen, Circadia
note: all concerts will be presented in camp concert hall in the modlin center for the arts on the university of richmond campus. the concert hall is in the booker hall of music, which is building number 38 on the campus map.
close popup