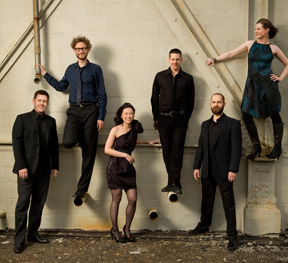 eighth blackbird, Ensemble-in-Residence
Described by The New Yorker as "friendly, unpretentious, idealistic and highly skilled", eighth blackbird promises its ever-increasing audiences provocative and engaging performances. It is widely lauded for its performing style: often playing from memory with virtuosic and theatrical flair and its efforts to make new music accessible to wide audiences. A New York Times reviewer raved, "eighth blackbird's performances are the picture of polish and precision, and they seem to be thoroughly engaged by music in a broad range of contemporary styles." The sextet has been the subject of profiles in the New York Times and on NPR's All Things Considered; it has also been featured on CBS's Sunday Morning, St. Paul Sunday, Weekend America and The Next Big Thing, among others. The ensemble is in residence at the University of Richmond in Virginia and at the University of Chicago. Visit eigthblackbird.com for more information on 3p's ensemble-in-residence.
---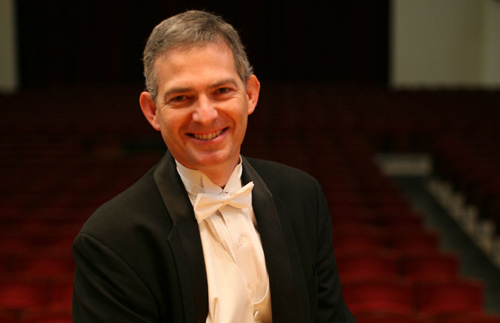 Timothy Weiss, conductor
Conductor Timothy Weiss has gained critical acclaim for his performances and brave, adventurous programming throughout the United States and abroad. Since 2005, he has served as music director for the Newark Granville Symphony Orchestra, a professional ensemble in the Columbus, Ohio, area. He has also remained active as a guest conductor with the BBC Scottish Symphony in Glasgow, Scotland; the Britten Sinfonia in London; ICE (International Contemporary Ensemble); and with concerts with the Toledo Symphony, Quad City Symphony, San Angelo Symphony, Detroit Chamber Winds and the Cleveland Chamber Symphony.
Weiss is committed to exploring the probing connections within and between pieces in his performances and searching for similarities of voice between different composers from seemingly different genres, periods, and backgrounds. Accordingly, his programs often present rare and revealing juxtapositions, offering a broad range of works from the minimalists to the maximalists, from the old to the new, and from the mainstream to the unheard of. His repertoire in contemporary music is vast and fearless, including masterworks, very recent compositions, and an impressive number of premieres and commissions. Recently, he was the recipient of the Adventurous Programming Award from the American Symphony Orchestra League.
In his 19 years as music director of the Oberlin Contemporary Music Ensemble, he has brought the group to a level of artistry and virtuosity in performance that rivals the finest new music groups. After a concert with the ensemble in Carnegie Hall, Anthony Aibel wrote in a review, "under the direction of Timothy Weiss [the ensemble] presented unbelievably polished, superb performances—impeccable performances—of extremely challenging recent music…Their level of preparation eclipses the highest standard...Each work on the program had something vital to say, something profound, and [Weiss] was able to communicate the music's message with vitality and insight, despite its extreme difficulty and somewhat foreign language. Weiss conducted with economy of gesture—never over conducting, never distracting from the music…the performance…cohered like one instrument with perfection thanks to the expert preparation by Timothy Weiss."
As a committed educator, he is professor of conducting and chair of the Division of Conducting and Ensembles at the Oberlin Conservatory of Music, where he created and mentored the ensemble eighth blackbird. He holds degrees from the Royal Conservatory of Music in Brussels, Northwestern University, and the University of Michigan.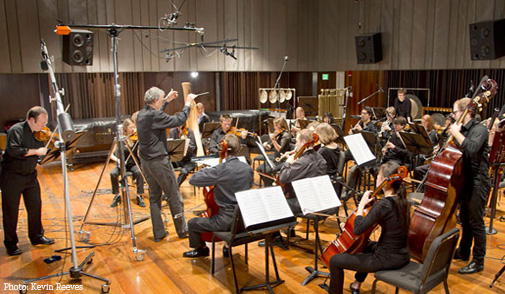 The Oberlin Contemporary Music Ensemble
Winner of an award for adventurous programming by the American Society of Composers, Authors, and Publishers and the American Symphony Orchestra League in 2002, Oberlin Conservatory of Music's Contemporary Music Ensemble (CME) stands foremost among new music ensembles in higher education in the United States.
Deemed by the New York Times as "a hotbed of contemporary-classical players" and a "rural experimental haven," the Oberlin Conservatory of Music cultivates innovation in its students, and an interest in the continuation of music as an art form. In its six annual full-concert cycles, CME performs music of all contemporary styles and genres: from minimalism to serialism, to electronic, cross genre, mixed media, and beyond.
Under the direction of Timothy Weiss, the ensemble's consistently innovative programming and high level of performance has lead to considerable acclaim. Of a recent performance in Carnegie Hall, Anthony Aibel of the New York Concert Review raved: "Their level of preparation eclipses the highest conservatory standard and most professional contemporary music ensembles … [they] presented unbelievably polished, superb performances—impeccable performances—of extremely challenging recent music."
CME has worked with many prominent composers from a variety of backgrounds, including George Crumb, Sir Harrison Birtwistle, Helmut Lachenmann, David Lang, Joan Tower, Frederic Rzewski, and a long list of others, and has premiered many of their works. CME also regularly premieres works by prominent Oberlin faculty, student, and alumni composers.
Oberlin conservatory attracts some of the most well regarded contemporary music icons to perform as soloists with CME, including Jennifer Koh '97, Claire Chase '00, David Bowlin '00, Tony Arnold '90, Marilyn Nonken, Stephen Drury, Steven Schick, and Ursula Oppens. Distinguished students regularly receive opportunities to perform as soloists with the ensemble as well, a luxury that is seldom afforded at other institutions.
Oberlin has long been an undergraduate Mecca for nationally acclaimed composers, chamber musicians, and ensembles. It has produced scores of powerhouse new music performers and ensembles that began their careers as members of CME, including the two-time Grammy award-winning sextet eighth blackbird and the International Contemporary Ensemble (ICE), among others.
In addition to its concerts at Oberlin, CME regularly tours the states. In recent years, the group has performed at the Winter Garden, Miller Theater, Merkin Concert Hall, Harvard University, Benaroya Hall, Palace of Fine Arts, and Carnegie Hall's Weill Recital Hall, as well as in numerous partner concerts with the Cleveland Museum of Art. CME also has been featured on a number of commercial recordings, including John Luther Adams' In the White Silence (New World Records), Lewis Nielson's Écritures: St. Francis Preaches to the Birds (Centaur Records), and the Oberlin record label.